January 20, 2022
KickOff 2022 – Rapid React SM
Contributors: Rubab, Grace, Nathan, Cordelia, Christian, Frankie and Michelle
Something that is a shared excitement throughout FIRST – the release of the new game!
First Impressions: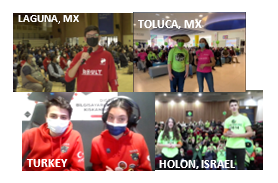 Pretty fascinating! Especially teams dropping in from around the world in the live stream.
The robot climb – robot doing monkey bars?!
Human player – We better brush up on our basketball shooting skills! The Human Player not only throws cargo onto the field, but also actively attempts half-court shots!
The Hub randomly disperses the cargo to any direction in a full 360° – Acts as an equalizer. Allows for all teams to have an even chance at getting the cargo.
A couple of interesting challenges we discovered:
Limited amount of cargo (11 in total per alliance) – need to strategize how to attain cargo, where to drop it off, and how to maximize points through rapid turnover.
Cargo is a precious commodity that requires pin point shooting accuracy, specifically for the upper hub – Accuracy is key!
Being able to pick up your opponent's cargo and being able to cross the line without limitation – Defence could possibly have a detrimental impact on the opposing alliance.
SIM – "xRC" Simulator
This SIM was released by FIRST as a resource to replicate the field setup. Amazing to have this resource available on Kickoff Day – one of our members stayed up – late – to play and collect stats for the next days' discussion. We used it to run strategies and attempt to determine cycle time and points. While it was a ton of fun, it could not fully replace prototyping.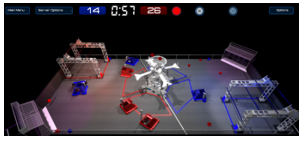 Brainstorming
We were a little bummed to have to be online for the first week, but our mentors made the most of it and came up with a cool (online) sticky note board for our Season Goal Brainstorming. We had a discussion and then all went on a frenzy putting down all the things we wanted from the season…. like … "Go to a competition" … we have students that have been on our team for 3 years now and have yet to attend a competition in-person!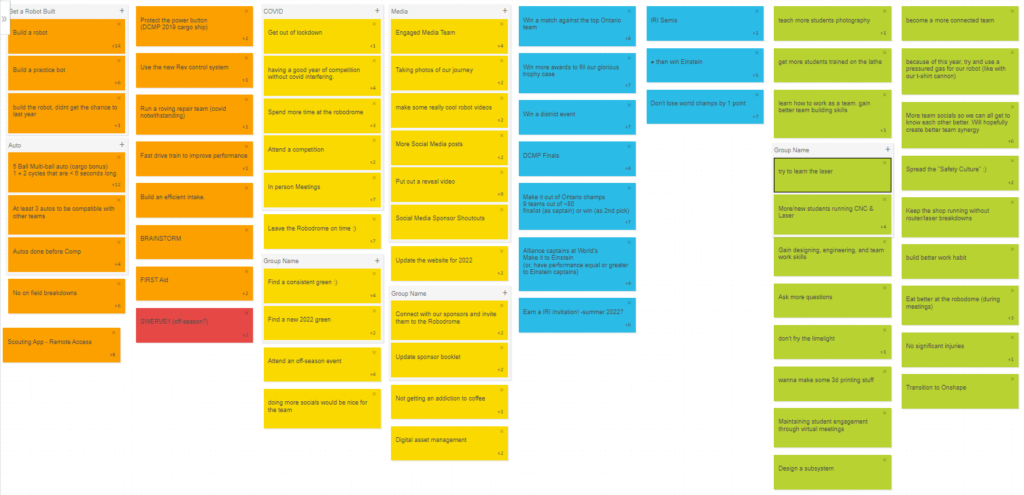 We even discussed future goals for the team like revamping our scouting app and moving to an online CAD program. This change will improve our collaborative abilities as a team regarding our online projects from the comfort of our own homes!
Collaboration as a Team
A topic that everyone can easily agree on is that without team effort nothing can get done. Similar to previous years, this year the game was brand new to all of us; none of us knew what to expect! The students knew as much as the mentors – what a thought! As a group, we read through the manual and dissected the game. Then we came together to develop strategies and a plan of action. It was a long two days of reading, a total of 136 pages! Although we had to participate virtually for the game reveal this year because of COVID, that did not stop us from using our problem-solving skills in order to come together as a collective.
In conclusion, we are all pieces of a puzzle that come together to create the bigger picture!