December 11, 2018
Robots + Lasers = Social?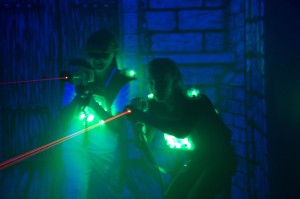 Build season is a fun but stressful time, we spend hundreds of hours together working on a problem that no one has ever solved before. It brings our team closer together – but at the same time, it can be a test of friendship and patience.
Every year, we do a social – a purely fun event with no robot connection to it. Just an opportunity to hang out with our team, have fun, make memories, and strengthen the bonds of friendship before build season.
For the past few years, our social has been laser tag, and we did the same this past weekend. What we love about laser tag is that it is fun and exciting; it ranks people (there is a winner), but at that the same time, if you are terrible at the game, you still play on with everyone else (no eliminations). It is also (relatively) safe, and not overly physical. A bit of skill and good strategy enables one to be successful.
The game also supports 'iterative design' – we play multiple rounds and people can try different strategies and adapt them to move up in the rankings. Rankings are objective – you earn points – and those are predefined. The scores also provide a good breakdown of where you got your points, and how other people affected your scoring.
Once again, our top two players faced off for top honours, with Lukas winning the first match and Trystin winning the other two matches (and Lukas coming in third). This is the 3rd year where one of these two boys have come in first.
Laser tag promotes team work (the group is divided into three teams), but also allows individuals to excel. The venue we have used for the past few years also features an arcade. Combining food, a bit of light physical activity and strategy, together with a variety of fun games makes for a light-hearted evening that we can look back on in the midst of competition.
About Author
Chris